Na de bevalling
Tongriem klieven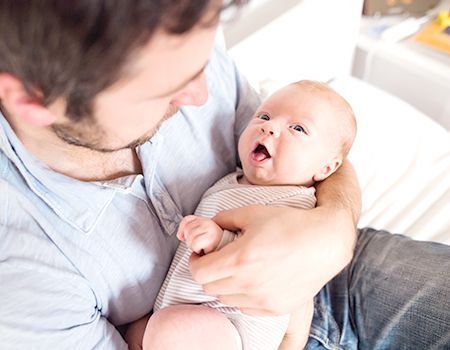 Na de geboorte blijkt bij sommige baby's dat het tongriempje strak of te kort is. De tongriem is het vliesje onder je tong. Een te korte tongriem kan je zelf herkennen doordat de baby zijn tong niet goed uit kan steken of doordat het puntje van de tong naar binnen trekt waardoor een hartvorm ontstaat. Tijdens het voeden merk je dat de baby de borst of speen lastig kan pakken en vast kan houden waardoor je vaak tijdens de voeding opnieuw aan moet leggen. Soms hoor je een klakkend geluid tijdens de voeding.
Contact
Door een korte tongriem kan je pijnlijke tepels krijgen of zelfs kloven welke niet of slecht genezen. Doordat de baby moeite heeft met drinken kan het zijn dat de melkproductie niet goed op gang komt of dat de baby niet goed genoeg drinkt om aan te komen in gewicht. Daarnaast zal de baby vaak onrustig blijven. Op latere leeftijd kan een strakke tongriem problemen geven met bijvoorbeeld praten, mondhygiëne, ijsjes eten en tongzoenen. Van te voren kunnen we niet voorspellen welke kinderen hier last van krijgen.
Een strakke tongriem is vaak eenvoudig op te lossen door het riempje te klieven. Het geeft de voorkeur om het tongriempje op jonge leeftijd te klieven. Op jonge leeftijd lopen er nog weinig bloedvaten en zenuwen door de tong en het tongriempje, hierdoor is het klieven zo goed als pijnloos en is nabehandeling met bijvoorbeeld antibiotica niet nodig. Ook de kans op nabloedingen en infecties is klein.
Wanneer er sprake is van een te korte tongriem kunnen we het tongriempje thuis klieven. Alle verloskundigen hebben hier ervaring mee. Met een spateltje brengen we de tong omhoog waardoor de baby soms gaat huilen. Hierna zetten we een klein knipje in het riempje wat vaak al voldoende is. Hierna laat de baby zich makkelijk troosten en kan je direct voeden.
Mocht je twijfelen aan de tongriem of aan het lipbandje neem dan contact met ons op. Meer informatie over dit onderwerp kan je vinden op http://www.borstvoeding.com
Contact