De bevalling
Wanneer waarschuwen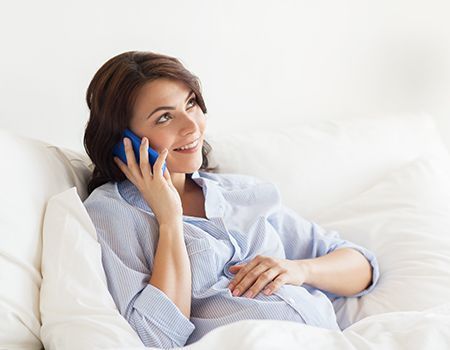 Je bevalling kan beginnen met weeën of gebroken vliezen. Vaak gaat dit samen met een beetje bloedverlies of slijmverlies, dit is normaal. Er zijn een aantal belangrijke momenten waarop we graag willen dat je ons belt:
Weeën kan je herkennen aan pijnlijke harde buiken die toenemen in kracht en frequentie.
We willen graag dat je ons in ieder geval belt als je weeën één uur lang om de 4-5 minuten komen, waarbij 1 wee ongeveer 1 minuut duurt. Belangrijk hierbij is dat de weeën regelmatig komen.
In 10% van de gevallen begint de bevalling met het breken van de vliezen. Er zijn dan nog geen weeën. Het vruchtwater kan wat rozig gekleurd zijn en kleine witte vlokjes bevatten. Dit is volkomen normaal. Je blijft nu steeds wat vocht verliezen totdat de baby geboren is. Meestal beginnen de weeën 6-12 uur na het breken van de vliezen. Je mag niet in bad zolang je geen regelmatige weeën hebt. Indien er na 24 uur gebroken vliezen geen baby geboren is, moeten er extra controles in het ziekenhuis plaatsvinden.
Mochten de vliezen na 37 weken 's nachts breken en
het hoofdje is ingedaald
het vruchtwater is helder
er zijn nog géén goede regelmatige weeën
dan kun je rustig afwachten, maar laat het ons wel in de loop van de ochtend weten, zodat wij een controle kunnen komen doen. Als je regelmatige weeën krijgt dan kun je ons ook 's nachts bellen.
Verlies je echter groen/bruin vruchtwater dan moet je ons direct waarschuwen, ongeacht of er wel of geen weeën zijn. Dan heeft de baby in het vruchtwater gepoept. Extra controle van de harttonen van de baby is dan noodzakelijk. Bovendien dient de bevalling dan plaats te vinden in het ziekenhuis.
Bloedverlies of bloederig slijmverlies tijdens de bevalling is normaal.
Is er echter veel, helderrood bloedverlies, dan moet je ons direct waarschuwen.