Kinderwensspreekuur
Zwanger worden
Wil je graag zwanger worden of lukt het niet om zwanger te worden en wil je graag advies, kom dan langs voor het kinderwensspreekuur.
Contact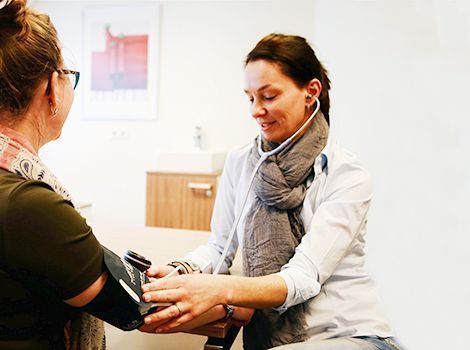 Het kinderwensspreekuur is speciaal ingericht voor vrouwen en partners die voorafgaand aan de zwangerschap meer informatie willen om zo gezond mogelijk aan hun zwangerschap te beginnen. Soms kunnen kleine aanpassingen in je levensstijl ervoor zorgen dat je jouw zwangerschap en de gezondheid van jullie baby de beste start kunt geven. Kleine aanpassingen verkleinen of voorkomen de kans op bepaalde complicaties of ziektes tijdens de zwangerschap.
Tijdens het consult kijken we naar de gezondheid van jou en je partner, eventuele erfelijke ziekten in de familie en bespreken we de gezondheidsrisico's. Ook geven we uitleg over het slikken van foliumzuur en hoe je zo gezond mogelijk aan de zwangerschap kunt beginnen. Maar ook jullie vragen, wensen en angsten staan centraal tijdens dit consult.
Wil je graag meer informatie, maak dan een afspraak. Wel vragen we je of je vooraf de zwangerwijzer in wilt vullen.
Omdat de gezondheid van de baby al voor de zwangerschap begint raden we iedere vrouw aan om 0,4 – 0,5 mg foliumzuur per dag te slikken. Hierdoor wordt de kans op een open ruggetje of open schedel verkleind. We adviseren om hier al 4 weken voor een eventuele zwangerschap mee te beginnen en om hiermee door te gaan totdat je 10 weken zwanger bent.
Contact